CIVIL
COMPUTER SCIENCE
COMPUTER SCIENCE AND TECHNOLOGY
ELECTRICAL
MECHANICAL
DEPARTMENT OF ELECTRICAL ENGINEERING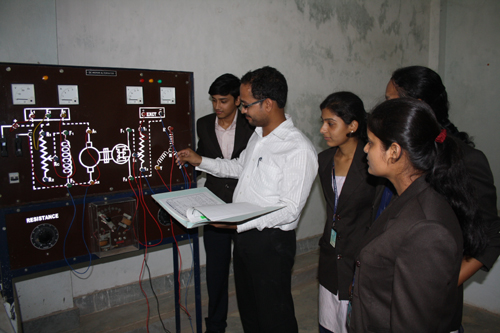 The Department of Electrical Engineering is dedicated to the current needs of industry with the flexibility to tune its programmes according to different requirements. Application of new technology in various fields like renewable energy sources, power electronics and drives, power quality are the main focuses in the activities of the department in which the department plays an important role. Undergraduate Programmes The Department has a B.tech. programme in Electrical engineering.
Vision
To be, and to be recognized for setting the standards of excellence in professional education and high quality scientific research."
Mission
To promote academic excellence, widen intellectual horizons, inculcate self discipline and high ideals for the total personality development of individual. To convert a novice into a competent professional with excellent theoretical knowledge and unsurpassed practical skills and to motivate the interest in the research activities, further education and social services Quality Policy To promote quality education, to convert a novice into a competent expert in the relevant field at par with global standards by meeting the far reaching expectations and requirements of the students through dedicated and devoted staff with updated systems and continual improvement." .
HOD ELECTRICAL ENGINEERING
prof. Bikas kumar Swain ,MTECH
Electrical Engineering (BTech)